Organic Yoni Steam Herbs
AMPLIFY YOUR HEALING
Kitara's Custom Yoni Steam Blends are Always Organic and Hand Blended with Love.
Not sure which blend is right for you?
Custom Yoni Steam Herbs
Each of our six yoni steam herb blend is designed to support specific aspects of womb health and healing.
Always 100% Organic and hand blended with love.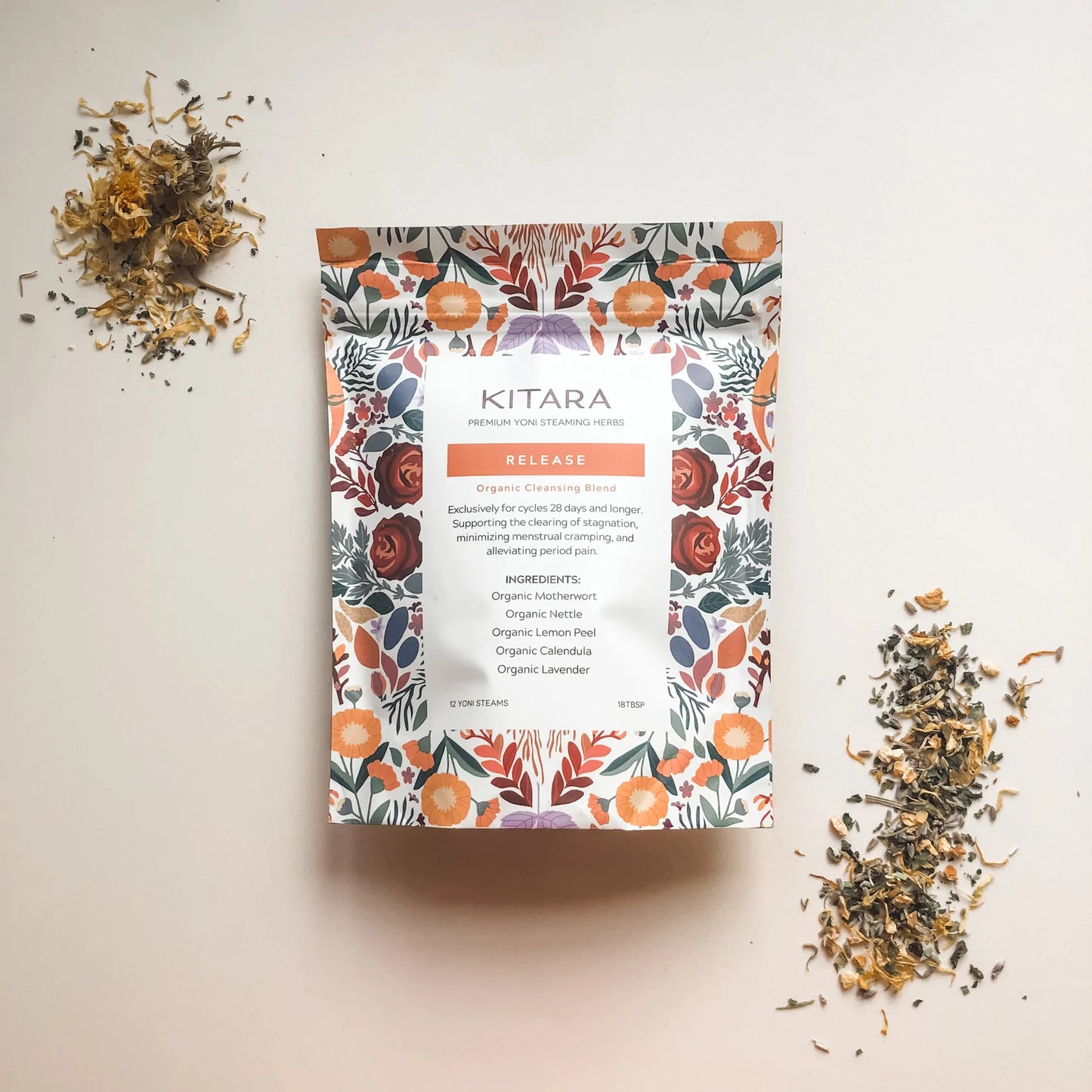 Cleansing Herbs
KITARA'S RELEASE YONI STEAM HERBS
Exclusively for cycles 28 days and longer. Supporting the clearing of stagnation, minimizing menstrual cramping, and alleviating period pain.
Designed for folks with healthy or long cycles.
These herbs are for you, if you have a cycle that is 28 days or longer and experience any of the following: 
Brown blood before and/or after your bleed/period, PMS cramping and/or back pain, Painful periods.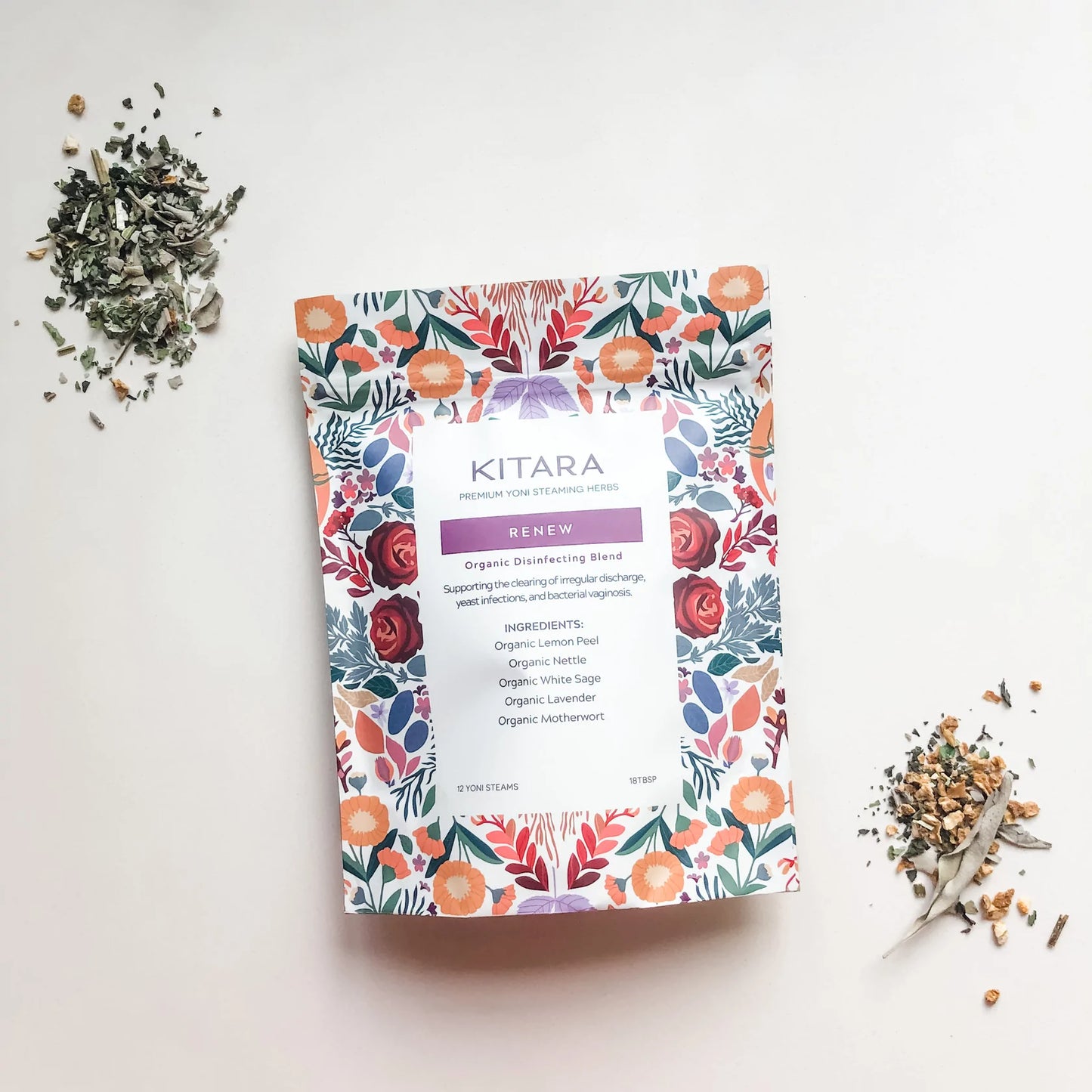 Disinfecting Herbs
KITARA'S RENEW YONI STEAM HERBS
Supporting the clearing of irregular discharge, yeast infections, and bacterial vaginosis.
Our Renew Organic Disinfecting Yoni Steaming Herbs are designed for folks experiencing excess dampness and irregular discharge including white, yellow, green, or malodorous.
This is also a great blend if you are experiencing or are prone to infections, including yeast infections and bacterial vaginosis (BV).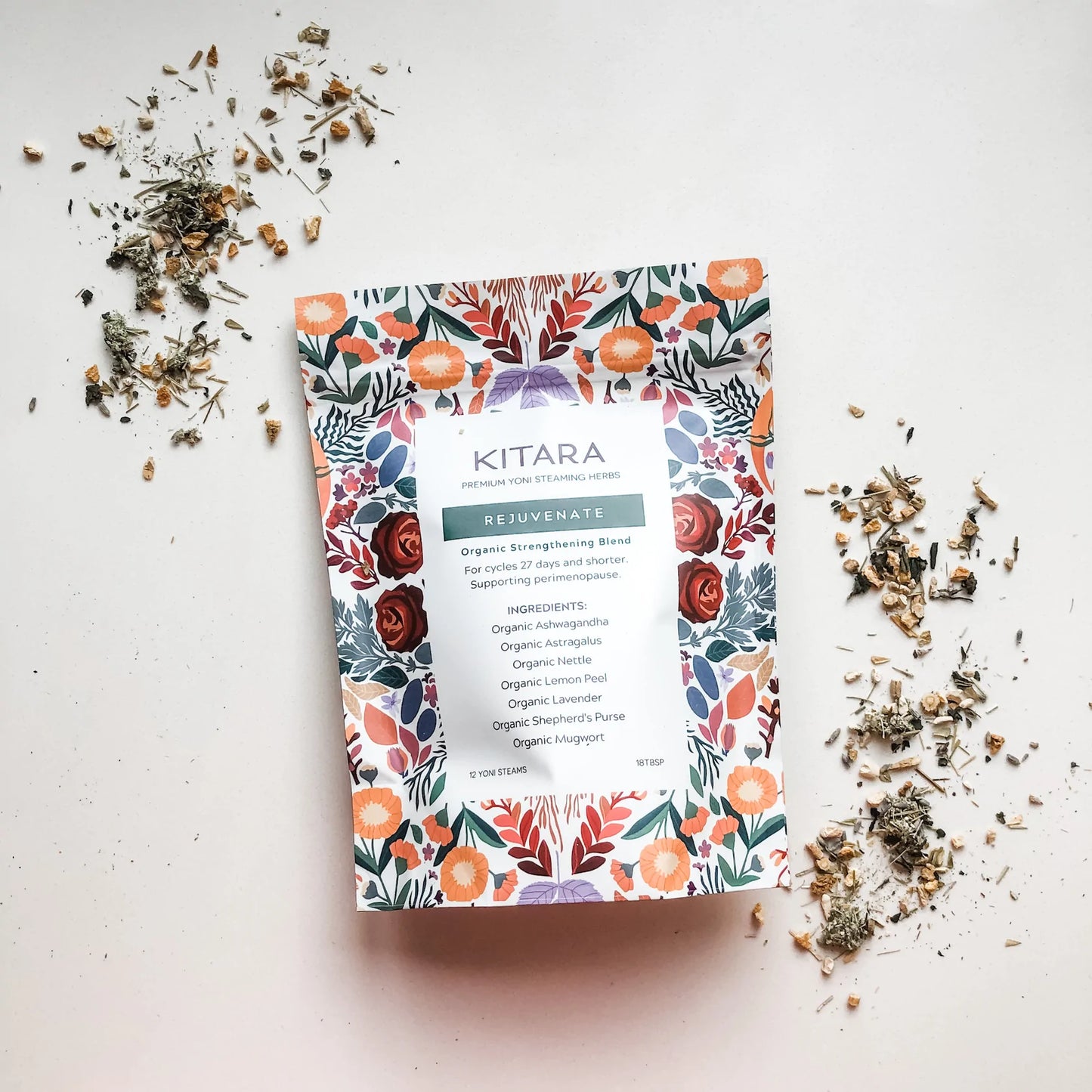 Strengthening Herbs
KITARA'S REJUVENATE YONI STEAM HERBS
For cycles 27 days and less. Supporting perimenopause.
These yoni steam herbs are for you if you experience any of the following: 
Cycles of 27 days long or shorter, a history of bleeding issues including spotting, the occurrence of 2 periods per month, or pontaneous bleeding.
If you experience any of the above sensitivities, regardless of other ailments, please choose this blend.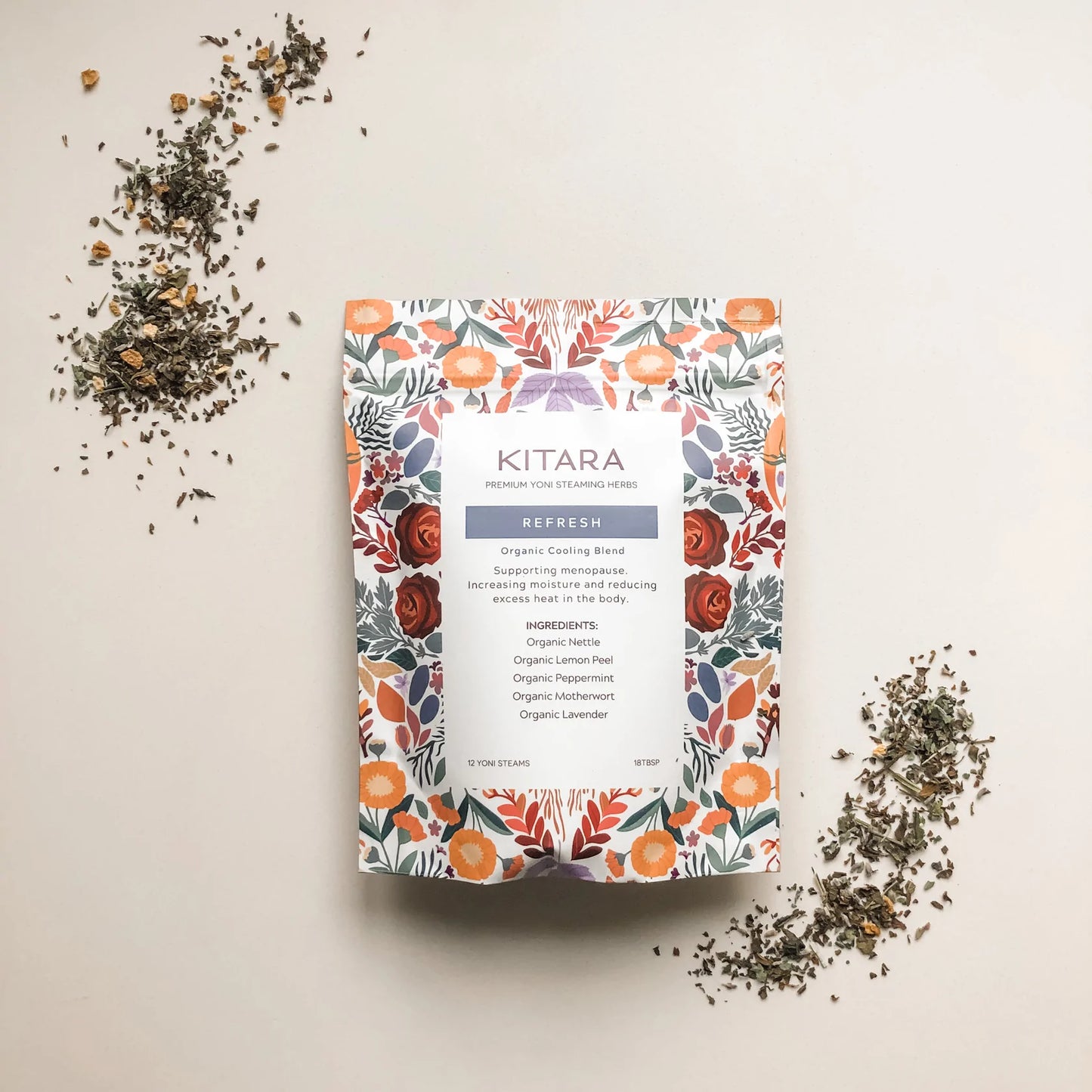 Cooling Herbs
KITARA'S REFRESH YONI STEAM HERBS
Supporting menopause.Increasing moisture and reducing excess heat in the body.
Our Refresh Organic Cooling Yoni Steaming Herbs are for folks with excess heat in the body: hot flashes, night sweats, and vaginal dryness. These herbs are particularly well suited for those navigating the transition into menopause. 
Postpartum Herbs
KITARA'S RECOVER YONI STEAM HERBS
Supporting birthing folks. Releasing lochia and achieving a full uterine cleanse after delivery.
Designed to support postpartum healing. Special cleansing and nourishing herbs aid in the full release of afterbirth. Enhancing recovery and care. 
If before your pregnancy you experience shorter cycles, 27 days or less, then please use our Rejuvenate, Organic Strengthening Herbs for your postpartum yoni steaming.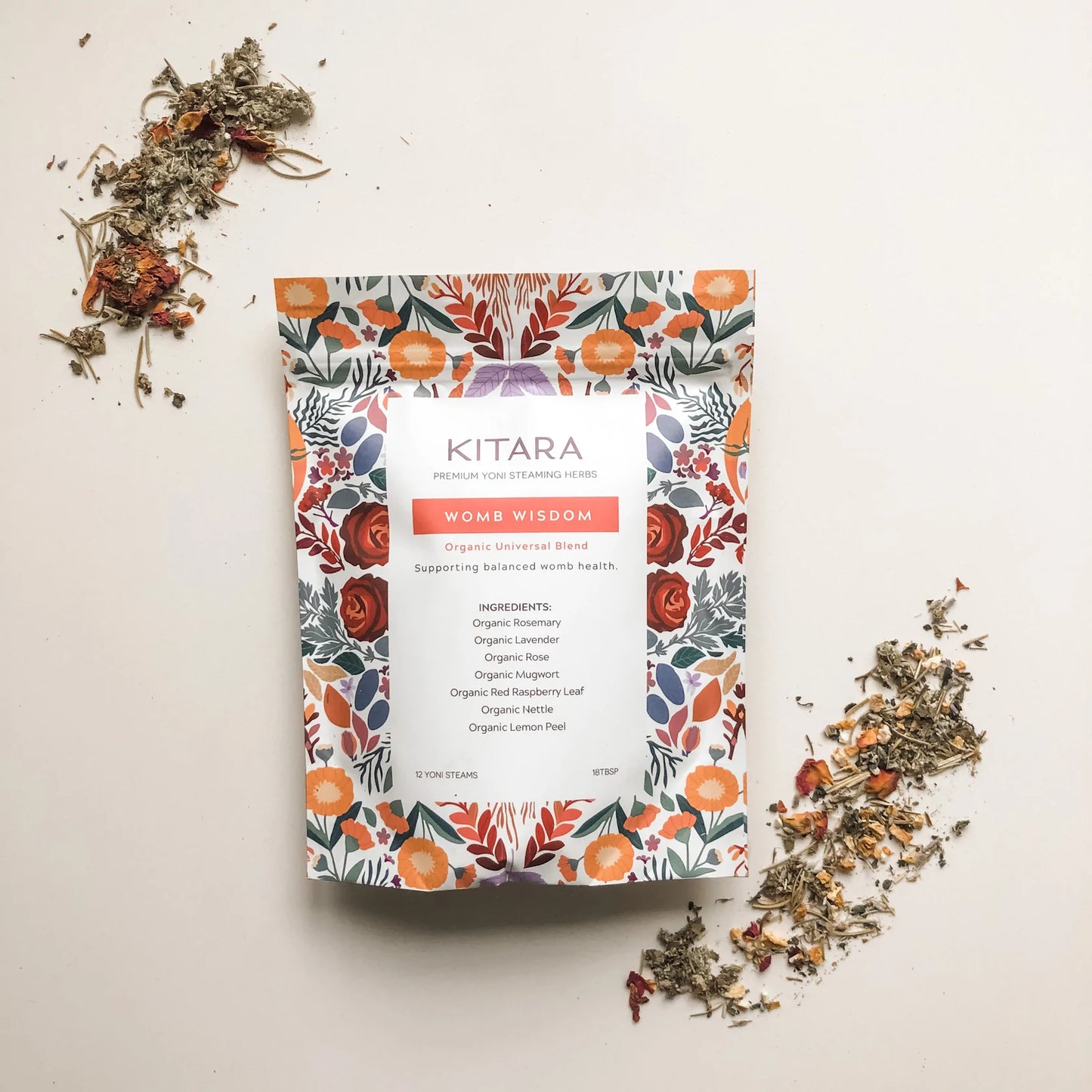 UNIVERSAL HERBS
KITARA'S WOMB WISDOM YONI STEAM HERBS
Supporting balanced womb health.
Well suited for folks of all ages and sister circles, pamper parties, New and Full Moon Circles.
Beautiful choice for spa owners.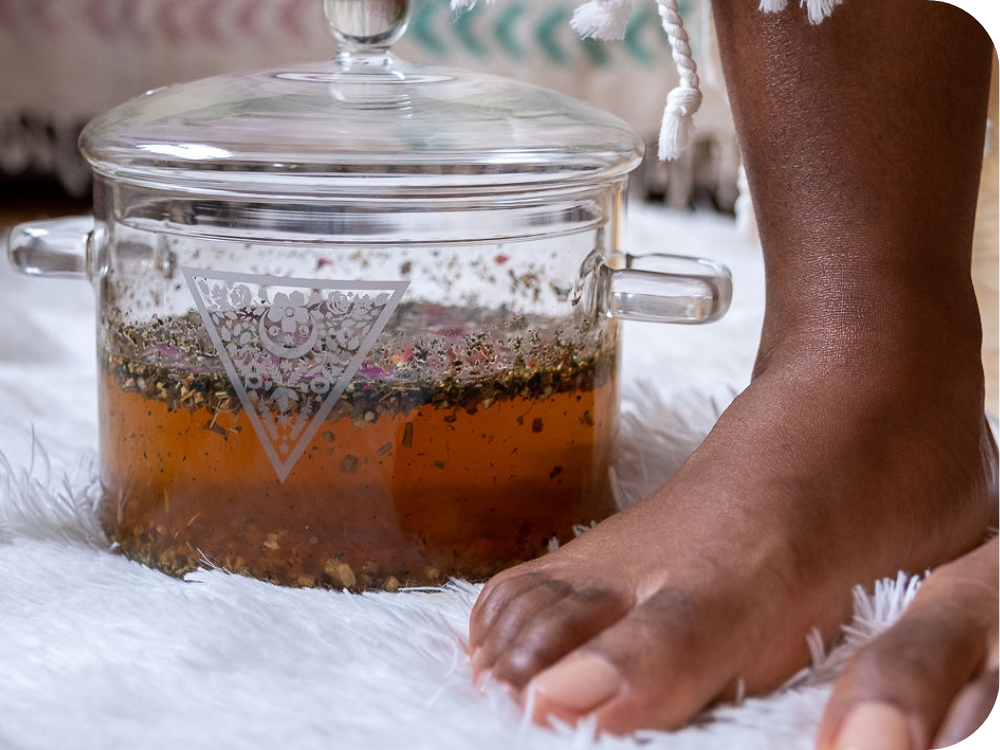 Which Blend is Best for You?
Our Certified Vaginal Steam Practitioners have designed our FREE QUIZ to help you discover which yoni steam herbs are best for you and your body.
Frequently Asked Questions
I have uterine fibroids. Which yoni steam herbs should I use?
Two blends of yoni steam herbs seem suitable, which should I choose?
Can I yoni steam with essential oils?

No. Essential oils are highly condensed and too strong for the delicate tissues of the vulva and pelvic floor. Please avoid using essential oils when yoni steaming.
Can I make my own blend of yoni steam herbs at home?

Of course! We celebrate your relationship to the plants and your ability to blend your own yoni steam herbs at home. Please be mindful of the quality of herbs you use and choose organic or wild harvested whenever possible. Which herbs to steam with for safety and efficacy is also important to consider. As is proportions of herbs for your yoni steam. If you are looking to blend your own yoni steam herbs, please consideration booking a yoni steam consultation so that you can ensure you are following a safe protocol.
I'm trying to get pregnant. Which yoni steam herbs should I use for my conception journey?

The best way to support your conception journey is to support your menstraul cycle. A healthy and balanced menstrual cycle is the foundation of fertility. So when choosing you yoni steam herbs please choose the yoni steam herb blend that best supports your menstrual cycle and overall womb health.

For additional information about yoni steaming for fertility, please check out our video, Yoni Steaming for Fertility and Conception.